Aina Kari: the Fragrance of Memories
Meet Marina Cighir, the creative mind behind Aina Kari. The brand pays homage to the art of artisanal glass-blowing through carefully curated home fragrances with signature bold scents.
Marina Cighir's desire to merge sustainability with great design is at the heart of Aina Kari, a home fragrance collection showcasing artisanal excellence with a commitment to conscious design.
Each candle is handmade in the heart of Murano, utilizing age-old production techniques and the collaboration of international talent from Venice, Milano and Paris, highlighting community and environment.
"Nothing brings to life again a forgotten memory like a fragrance": the famous quote by Christopher Poindexter is the starting point of your philosophy. Which Aina Kari fragrance conjures up your life's memories?
Scents are a window into our emotional past, fragments of a childhood memory, a journey, or an unexpected gift. Each fragrance, specifically created in collaboration with the Flair Paris fragrance house, follows its own path.
The fragrance from the Play Collection - very strong, dominant, with essences of saffron, vanilla and sandalwood - reminds me of my frequent travels to the Middle East. I love the Arabian Nights atmosphere and the mysteries concealed behind a cloud of incense. The East-Asian-inspired fragrance from the On the Stage Collection - with its sweet yet refined notes of almond, cherry, sage and Virginia cedar - always puts me in a good mood, bringing back memories of those happy moments I affectionately refer to as "the age of innocence".
The expression "Aina Kari" refers to an ancient Persian decorative technique. Tell us more about the artistic inspiration for your brand.

I wanted to embody the bridge connecting past and present, near and far, new and ancient, recognizing Made in Italy before it became a "system". Indeed, Made in Venice was already established in the 17th century and Venetian glassmaking was already accredited as a profession hundreds of years ago, and recognized with a formal invitation to Iran by the Shahs, particularly Shah ʿAbbās.
This Persian decorative art form may have evolved from the creative repurposing of shattered mirror fragments imported from Venice. These mosaics made of small tiles have their origins in the fragility of the glass sheets that shattered during the caravan transit to Persia. Once broken, their unaltered qualities of light refraction and diffusion, not to mention their great intrinsic value, must have called for their repurposing in a traditional Persian way.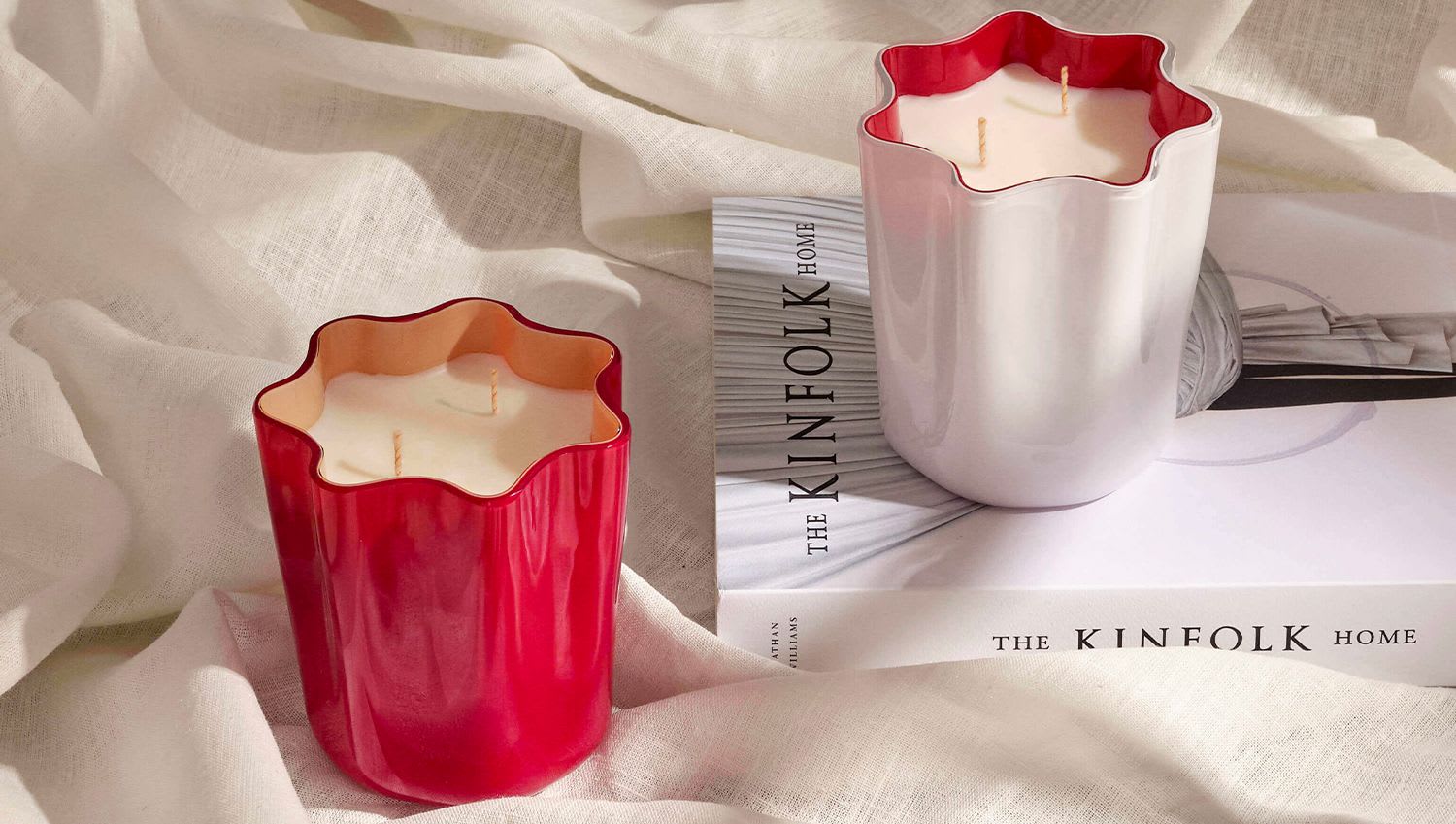 Sustainability is one of the founding principles of Aina Kari. What does sustainability in design mean to you?
I fully grasp the pleasure that a fragrance infuses into our homes and environments. However, pleasure does not have to be the only driver, but also our responsibility. The fragrance evaporates, the wax burns out, and - too often - the container is never reused, no matter how hard you try to get this message across. This also happens because jars are too small to have any real post-consumer function, they are often silk-screen printed or have a non-removable logo. I did not want any logo for Aina Kari's candles so as to let the design stand out, resulting in authentic upcycling.
Designer Irina Flore, founder of Studio Flore, has best embodied my project, which was born during the peak of the pandemic in a deserted Venice, where, nevertheless, the reflection of aina-karì served as a guide.
In an era of consumerism, the utopian solution would be not to consume; however, I chose to focus on responsible, mindful, and lasting consumption, whereby the refined design, craftsmanship, and intrinsic values of the product result in "buying less, but better". Of course, commitment to sustainability also refers to using raw materials (100% natural wax, a blend of coconut wax, rapeseed, soy, and beeswax). The fragrances are all paraben- and phthalate-free and the original packaging illustrated by the young Italian cartoonist Paolo Gallina is made exclusively of biodegradable Favini paper and 100% recycled paper (carbon neutral, Shiro paper, and Alga Carta). We are also currently working to obtain the Butterfly Mark certification by Positive Luxury.
Your career started in fashion and then later transitioned into lifestyle and design. How did your past experiences influence your approach to founding the Aina Kari brand and your distinctive style?
I live in Treviso, a few kilometers from Venice, and my partner grew up in Venice where we always go over the weekend, but I have always worked in Milan - which has become my second home. After 15 years working with lifestyle and home fragrance brands both in Italy and abroad, I decided to bring my artistic and entrepreneurial idea to life.
I wanted to present Murano glass in a novel candle designed with a contemporary twist - a candle that would also intrigue and relate to millennials thanks to its bold packaging, clearly linked to Italian culture. And if it sparks curiosity to read the story behind the candles' names, thus discovering Lucrezia di Siena or Vittoria Piissimi, then I can say that I have achieved my goal. I wanted to engage with a refined, exclusive consumer base, initiating a profound dialogue between design, craftsmanship, sustainability, and creativity.
Each Aina Kari fragrance has a unique and distinct quality, which celebrates Italian craftsmanship in some way. Tell us about how a fragrance comes to life and what are the creative ideas that transform a set of scents into an olfactory work of art.
Every detail of Aina Kari Considered Home Fragrance has a meaning, a reason for being - from the Venetian red of the AK brand - the term Venetian red was used for the first time in 1753 to indicate this particular hue - and the illustrated details on the packaging to each collections' fragrances. All encapsulated in an olfactory journey, one that is informative and sustainable.
The On the Stage Collection has a design dedicated to the most iconic Italian theaters: La Fenice in Venice and San Carlo in Naples, true architectural jewels to see at least once in a lifetime. The choice of bold colors, such as phoenix pink and royal purple, confers timeless elegance and is ideal for contemporary home decor.
Amelie Bourgeois and Anne Sophie Behagel have created the Joyful Soirée fragrance: chic and modern notes of fig milk and fig leaf, accompanied by Mediterranean citrus and fresh bergamot, open a window on the bright and vibrant spirit of a morning in Naples. All embraced by the East-Asian elegance of amber wood and powdery white musk. An ode to Italy and the scent of the Mediterranean scrub. A particularly loved and original fragrance - Green fresh - which never disappoints.