Artisanal Sporting by Zero Ski
Meet Zero, an artisanal ski brand making high-performance skis by hand. Their driving vision is the founders' passion for outdoor sports and Italian craftsmanship, employing unexpected materials like 24-carat gold leaf for a luxurious touch on winter leisure.
Meet ​Zero, an Italian ski brand based in the heart of the Alps. The founders' mission is to bring elegance to winter sports, mixing material layering, 24-carat gold inserts and crafted motifs to elevate skis to high-performance luxury items.
Energetic, future-forward and eager to take over the luxury sports industry, ​Zero's founders Claudio and Andrea tell us all in an immersive interview covering their beginnings, their production processes and the teamwork spirit driving their Brand Extension program. Read more for our take on a truly unique Italian atelier.
We use 24k gold leaf made by a Florentine workshop that has existed since the 1600s. We apply crystals on skis one by one. We carve our materials by hand.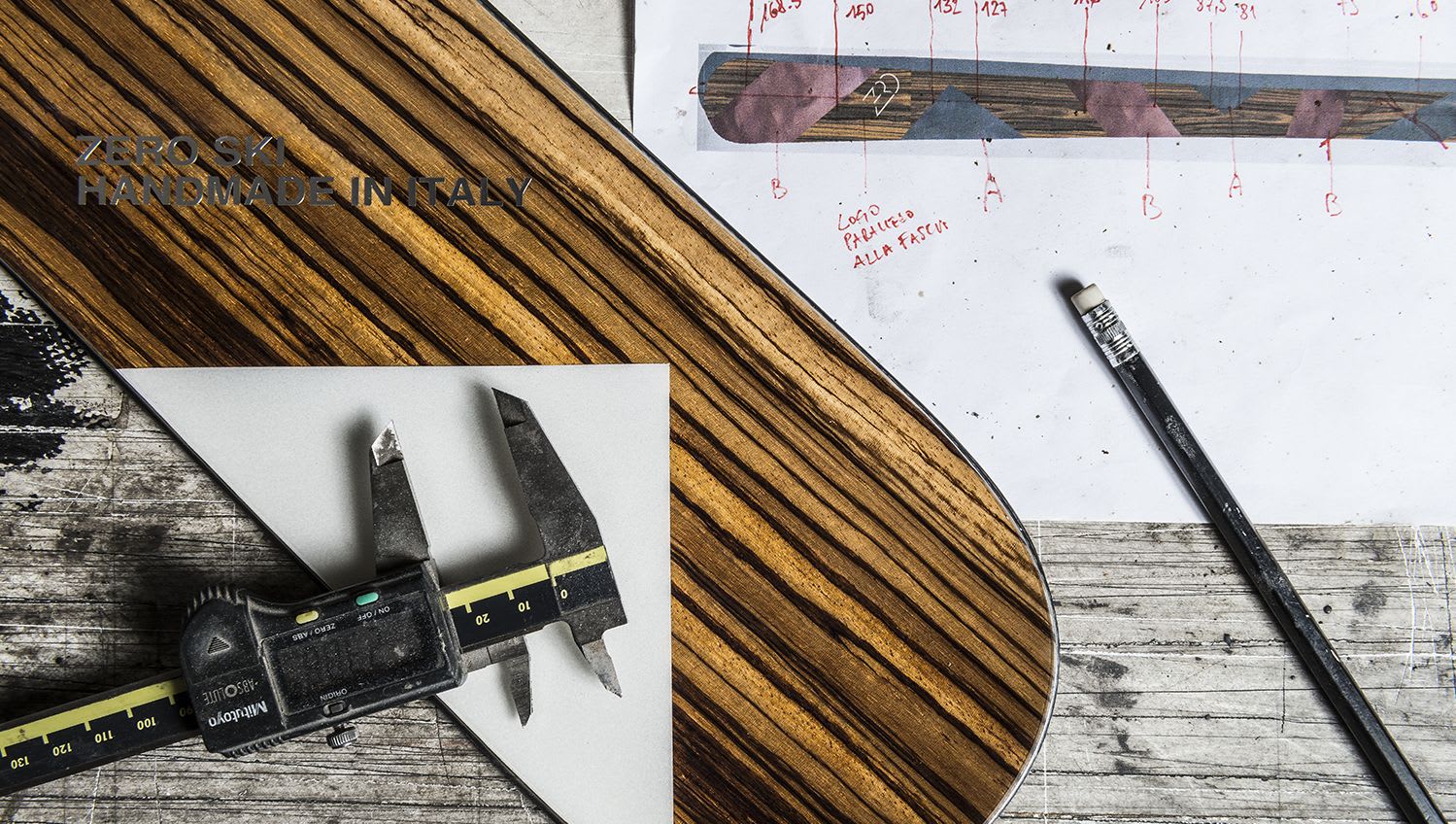 Driven by a strong belief in craftsmanship, Zero stands out for its attention to materials, product development processes aiming at high performances and eye-catching designs. How was Zero born?
Zero was born from the passion shared by the two founders, Andrea and Claudio, who've been skiing on weekends with their families since they were children. The main idea was to create a product with a different and extremely distinctive design. Using materials instead of graphic prints and fully hand-assembling the structure with fine materials is at the base of Zero's philosophy, which is why we pride ourselves to be a fully artisanal brand. The idea that the skis had to be high-performance and of a higher technical level than the average product on the market came by itself; both of us would never have accepted our customers to only be amazed by the design of the skis. Our best satisfaction is seeing customers test the skis for the first time and making them feel like they are on another planet.
Elegance and performance are at the core of your brand, which marries sophisticated aesthetics with high-performance designs. How does your 'Zero Tailored' service work and how do you adapt to each type of skier, be it Race Carver, All Mountain, or Free Ride?
Customers who come to us are often not clear about what kind of product they are looking for from a technical point of view. It's our job to talk to each customer individually and try to understand which product is best suited for them, finding solutions that can help them from a performance point of view: this applies to both beginners and advanced skiers.
As far as design is concerned, most of our clients choose skis from our collection, with some small customizations (e.g. adding their name on the tail, or the company logo on the tip). We have created very sophisticated designs for some fashion brands, starting from our company's signature materials and geometries. The results have always been very satisfactory.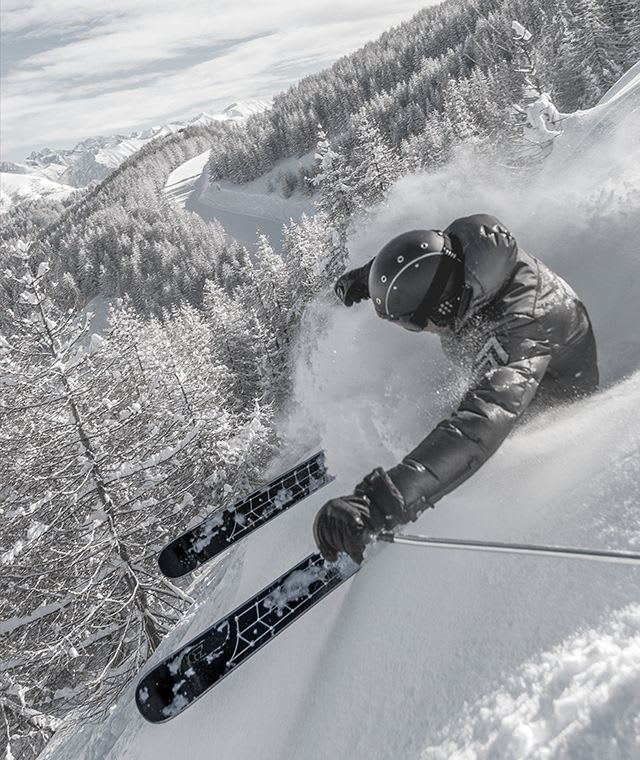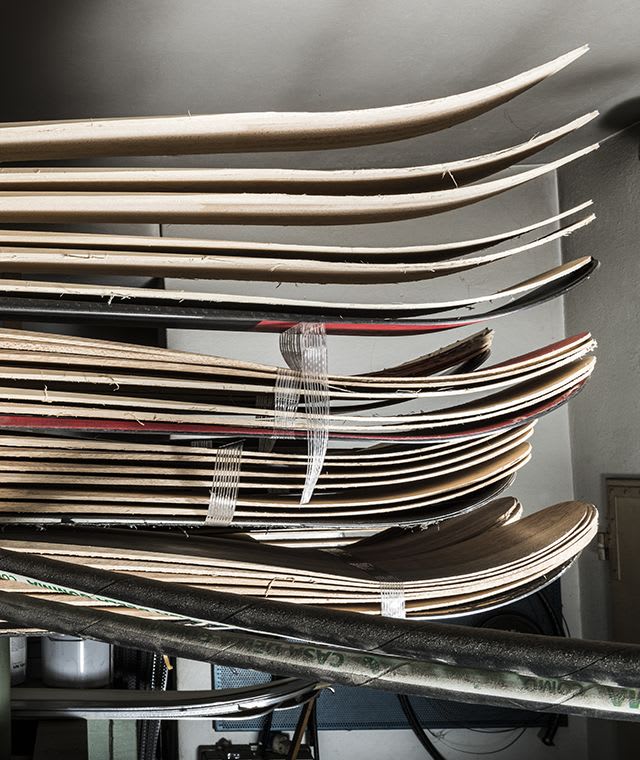 Made in Italy craftsmanship is often linked to a sense of beauty as well as the use of high-quality materials. How do you layer different materials within the ski's structure, and what are some of your unique production processes?

Our products are the result of research aimed at enhancing beauty and quality, achieved through the skillful hands of the artisans producing them and the materials that we use, which are fully made in Italy. We perform processes and select materials that no one else uses — you can't find anything similar neither in the skis produced on a large scale nor among the craft realities. For example, we use 24k gold leaf made by a Florentine workshop that has existed since the 1600s; we apply crystals on the surface by embedding them one by one; we carve the materials by hand.
The application by hand does not always reach perfection but, as we always say, this is the best guarantee of true "handmade" that we can give our customers. As for the structure that makes up the ski, we carefully select our materials, especially the wood cores that together with the order of composition and layering (which is fully customizable) make the ski and the feeling you get on the slope unique. Only with this attention can we create a product that can be proud to be the standard-bearer of Made in Italy in this sector.
How can you guarantee excellent grip on the ground in all snow conditions without sacrificing the lightness of Zero's signature ski design?

We guarantee it in the simplest way possible and that is by creating a structure that is both performing and flexible. In order to achieve this goal, the wood core is of fundamental importance; we use three types of wood depending on the geometry we create. The use of absorbent material inside the stratigraphy dampens those annoying vibrations that can be generated on very compact or frozen snow, thus guaranteeing more comfortable skiing.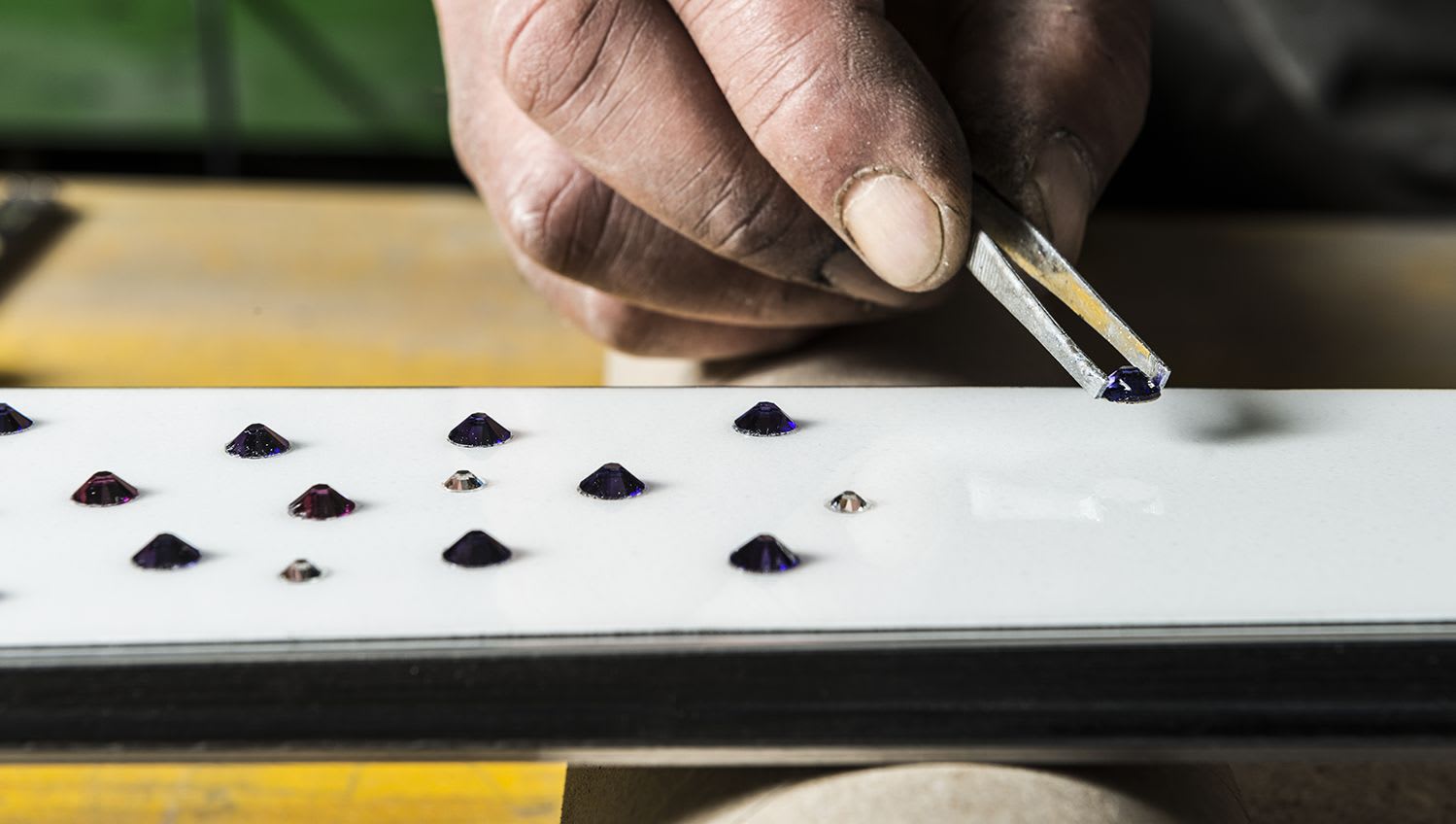 The 'Brand Extension' project increasingly portrays you as master craftsmen and ambassadors of 'tailor-made'. What are some of the collaborations that stand out in your repertoire and which brands would you like to collaborate with in the future?
In recent years we have had collaborations with important fashion brands. We can tell of extremely stimulating teamwork with the product design teams of each company we've worked with, which has given us the opportunity to see things from a different point of view. For an artisan company, entering the world of big brands is something quite extraordinary. Among other things, we have created private collections for VIP clients of fashion brands, and more than once we have had skis made for some of the most famous celebrities in show business and music.
We don't have any particular brands that we would like to collaborate with, but we definitely have a sector in mind, which we think can be very complementary in terms of customer interests: boating.
Locating Zero's laboratory in the heart of the Alps, you are constantly surrounded by the ski world. What do you think has changed in the sport over the last decade and what excites you most about the new trends in skiing today?
The world of skiing has undergone many changes, especially in the last twenty years, in the ways of experiencing the sport. In spite of everything, the appeal of the sport, which led to its boom in the 1970s, 80s and 90s, has not changed. Our mission has always been to bring skiing to life in a modern key but with references and sometimes materials that evoke the history and glory that skiing had in the past, that slightly vintage allure that is typical of this sport and the places where it is practiced. The trend is increasingly that of off-piste and touring. We follow the trend with the geometry of the skis we produce, but we will never give up the unmistakable look that Zero has in its soul with the ambition of always creating timeless designs in the future.
We want to evoke the history and glory that skiing had in the past, that slightly vintage allure that is typical of this sport and the places where it is practiced.